Workout Overview:
I love these types of workouts.
Simple, efficient and can do at home or in the gym.
Not only can you build a lot of strength doing these movements, but you'll also increase your mobility and strength.
I think it is a time to explore different ways of being strong, and this bear strength workout is a great way to explore different types of strength.
During this workout, I would rather you focus on the movements.  Focus on exaggerating the movement, feeling the ranges of your flexibility/mobility; as well as "pushing" those ranges.
Don't hurt yourself, but when you are using lighter weight or body weight – it can be a very HIGH reward for LOW risk … Compared to doing max-effort deadlifts everyday.  High RISK, with LOW rewards.  Nothing wrong with max effort, just not everyday :)
Forget using heavy weight.  Focus on the skill and connecting your mind and your body through the exercises.
Here's an overview video of the Bear Strength Workout.
Workout Goals:
Shoulder Strength, Flexibility & Mobility
Glute / Hip Abductor Activation
Hip Mobility
Hamstring Strength & Flexibility
Core Strength & Stabilization
Lock-Out Strength
Mind-Muscle Connection
Workout Routine:
Need:
Small Space
Light Dumbbell Or Kettlebell Or TRX
Your awesome attitude :)
Warm-up:
Follow the warm-up routine video below.
Part 1 of 3: Explore
Get a timer, and put 3 minutes on, with a 1 minute rest.
For 3 minutes, explore each of these movements.  Rest only as needed.  This is not a challenge.  This is a chance for you to see where you are at, and learn something new.
Bear Crawl
Row (TRX, Straps, Kettlebell or Dumbbell)
Perfect Push-Up
1-Arm Overhead Press with Strong Lockout (Kettlebell or Dumbbell)
Total Time: 15 Minutes
Part 2 of 3: Challenge
Goal: Push your pace a bit and challenge yourself with doing some higher-intensity rounds.
Set a timer for 15 minutes.  See how many rounds of the following you can complete in 15 minutes.  Rest as needed.
Perfect Push-up x 12-15
Bear Crawl 30-60 seconds
Row x 12-15
Bear Crawl 30-60 Seconds
1-Arm Press
Bear Crawl 30-60 Seconds
Total Time: 15 Minutes
Part 2 of 2: Expand
Goal: Cool down a bit, explore new ranges of flexibility and strength.
Do the following stretches for 1-minute.  During these stretches, feel the lengthening and expansion in the muscles you worked.  Explore a bit of your flexibility.  After this workout, your body is primed for a good stretch.
The images, names and part of the following come from GMB Fitness
A-Frame Hold: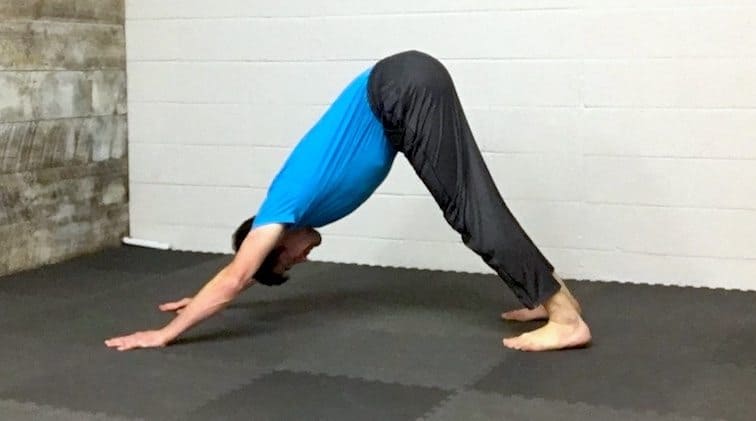 L-Arm Stretch:

Lounge Chair Stretch:
If you have others, don't be afraid to do these as well!
Exercise / Workout Resources
Bear Crawl
The Bear crawl is one of my favorites.  It is surprising how much strength, mobility, balance and flexibility can be gained from the bear.
We got this movement from GMB Fitness.  Here's a great video on some variations of the bear:
Be sure to check out their bodyweight training at: https://gmb.io
Also – if you have any questions, don't be afraid to leave a comment below!
Oss
Matt Bryers